Full-service lawn care company for properties in Westerly, Hopkinton, and Charlestown, RI.
---
Our expert team offers a customized lawn care schedule for your yard.
We are a full-service lawn care company that provides fertilization, aeration, and more to residential and commercial properties in Westerly, Hopkinton, and Charlestown, RI. Our expert team creates a customized care schedule for your yard depending on its unique needs. This way, we strengthen your lawn with all the nutrients it needs so that it can fight off any potential issues such as lawn disease or insect infestation.
We also restore the health of your yard and repair lawn damage through services like aeration, topdressing, dethatching, and sod installation.
---
We have a 5-step lawn care program that keeps your yard in good health.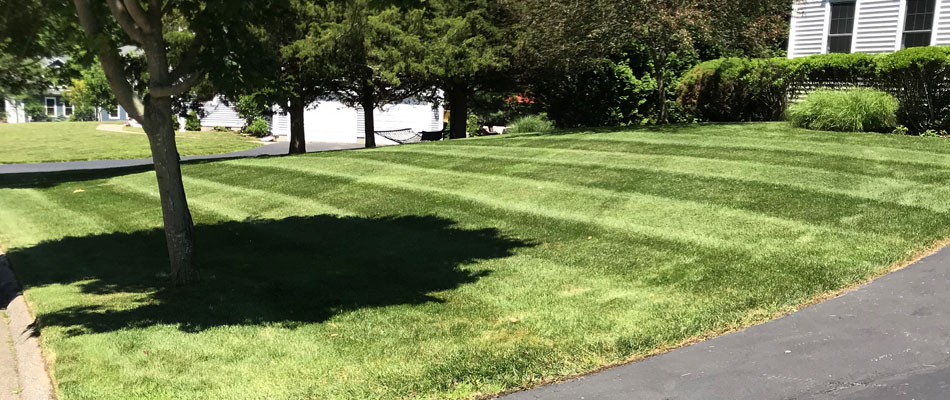 Our 5-step lawn care program keeps your yard in good health. Here are the steps we follow every year:
Step 1: We apply pre-emergent weed control treatments in mid-April to control crabgrass, foxtail, goosegrass, and poa annua.
Step 2: In mid-May, we apply crabgrass control treatments and fertilization and weed control treatments.
Step 3: Our lawn care experts apply grub control treatments in July. This prevents grubs from destroying your lawn's roots and causing irreparable damage.
Step 4: Similar to step 2, we apply fertilization and post-emergent weed control treatments for your lawn in September.
Step 5: To prepare your lawn for unpredictable winter conditions, we apply a winterizer treatment in November. This gives your lawn a boost of extra nutrients to be stored.
Even if your lawn appears in good health, you shouldn't neglect to implement a comprehensive lawn care program. Some of the benefits that your lawn will receive from regular fertilization and weed control are:
A strong root system
Improved soil structure
Diminished brown spots
More stress-resistant grass blades
An overall greener and healthier appearance
---
We offer BeeSafe organic mosquito, flea, and tick control applications during their peak season.
Keeping mosquitoes, ticks, and fleas out of your yard is important for the health of you, your family, your pets, and others—but it's also vital to try to protect important pollinators, which is why we offer an organic application from BeeSafe. This treatment of cedar spray will repel and eliminate these harmful pests.
We use a backpack sprayer to administer these treatments every three weeks during the peak season of May through September for mosquitoes, fleas, and ticks to help lower your risk of catching diseases that are transmitted through their bites, such as:
Eastern Equine Encephalitis
Lyme Disease
Murine Typhus
West Nile Virus
And more
---
Our lawn restoration services include aeration, topdressing, and more.
We perform lawn restoration services to give your lawn the best possible chance at future growth. If your lawn has suffered severe damage, it may require one or more of our professional lawn restoration services. For example, we offer thatch removal, or dethatching, for lawns that contain built-up debris like leaves and old grass clippings.
Check out some of the other restoration services that our lawn care company can perform for your residential or commercial property in Charlestown:
Aeration: We perforate your lawn with small holes to loosen up compacted soil. We usually perform this service in the fall, but our lawn care company also offers it in the spring.
Overseeding: Through overseeding, we lay grass seed on top of your existing lawn. This grass seed is a blend of fescue, Kentucky bluegrass, and perennial ryegrass. Our lawn care providers always try to pair overseeding with aeration to produce the most effective results.
Slice seeding: Slice seeding involves using a machine equipped with blades to create slits in your lawn's soil. This allows our grass seed blend to reach deeper in your soil. We recommend that you should alternate between overseeding and slice seeding services from year to year.
Topdressing:Topdressing involves giving your soil additional organic matter that it can use to promote your grass's growth. We offer this service in the spring or fall and usually perform it before overseeding.
All of our seeding services include a starter fertilizer treatment that is applied after the service is performed.
---
Some of our clients opt for sod installation to repair their lawns.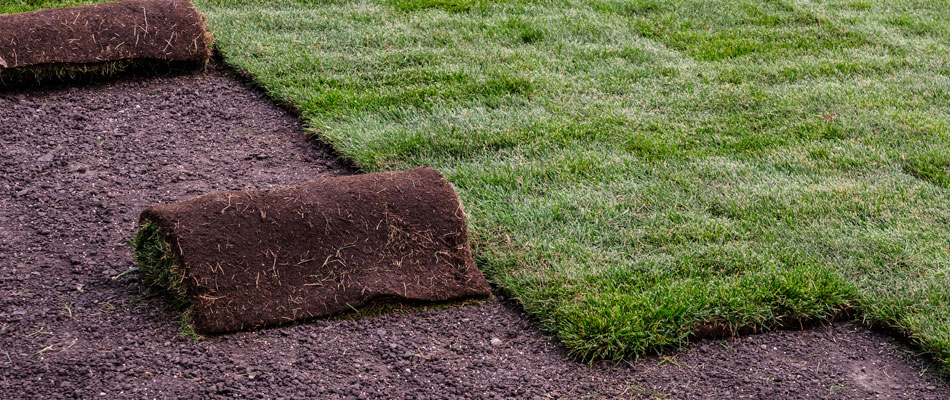 In severe cases, lawn restoration services may not be effective for particular lawns. To help clients experiencing severe lawn damage, we offer sod installation as an effective way to repair their lawns. Our lawn care company can perform sod repairs or full sod installations. We try to use bluegrass sod whenever possible, but the type of sod we use will depend on your particular lawn.
For every sod installation project, we begin by pulling out the existing lawn. From there, we perform topdressing and overseeding services and put down the new sod. Sod installation is a popular lawn care solution for our clients, as it is a guaranteed way to produce quick results.
---
Does your lawn require professional attention from well-trained lawn care experts? Call us.
If your lawn has suffered from improper care practices, it will likely require professional attention from well-trained lawn care experts. Our team will help you determine exactly what your lawn needs, whether that be a fertilization schedule or new sod. Call us at (401) 575-1896 to discuss your lawn's needs. We serve both residential and commercial lawns located in and around Westerly, Hopkinton, and Charlestown, RI.