Property cleanup services for yards in Westerly, RI and nearby areas like Hopkinton and Charlestown.
---
Spring and fall cleanups prepare your lawn and landscape for the upcoming seasons.
We offer comprehensive property cleanup services for yards in Westerly, RI and the neighboring areas like Hopkinton and Charlestown. Our spring and fall cleanups are designed to prepare your landscaping and lawn for either the upcoming growing season or winter dormancy.
Along with spring and fall yard cleanups, we also perform one-time cleanups for distressed or overgrown properties. Cleanups include debris removal, leaf removal, landscape bed reshaping, and more.
---
Comprehensive Spring & Fall Cleanups for Residential & Commercial Properties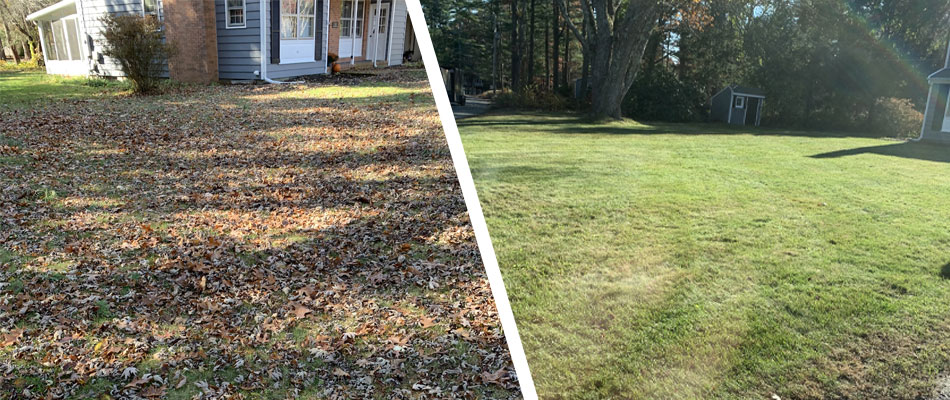 Our spring cleanup services prepare both your landscaping and lawn for the impending growing season. We pick up debris that has accumulated over the winter including leaves, sticks, and leftover acorns. During spring cleanup services, we typically re-edge and reshape landscape beds.
While the concept is the same, we take a slightly different approach when it comes to our fall cleanups. During a fall cleanup service visit, we primarily focus on leaf removal. To most efficiently clear your lawn of debris, our service providers use a lawnmower with a leaf blower. We also have a vacuum truck on hand to pick up leaves at your curbside.
We perform comprehensive fall cleanup services to clear your yard of excess natural debris. This way, it can access the nutrients it needs before the winter weather hits and your plants go into dormancy.
---
A spring and fall cleanup performed in the same year will benefit your landscape.
While some of our clients only opt for a spring cleanup every year, we strongly recommend you don't skip out on your property's fall cleanup. Clients who skip a fall cleanup will be left with more extensive spring cleanup. Plus, these yards will be more likely to suffer during the long winter season. Sticking to a consistent spring and fall cleanup schedule will greatly benefit the appearance and health of your landscape.
If you choose to schedule a fall cleanup, try not to wait until the last minute. Delaying your fall cleanup can be detrimental for your yard, as early snowfall can inflict severe winter damage on a yard that hasn't been professionally serviced.
---
One-Time Property Cleanup Services for Distressed Yards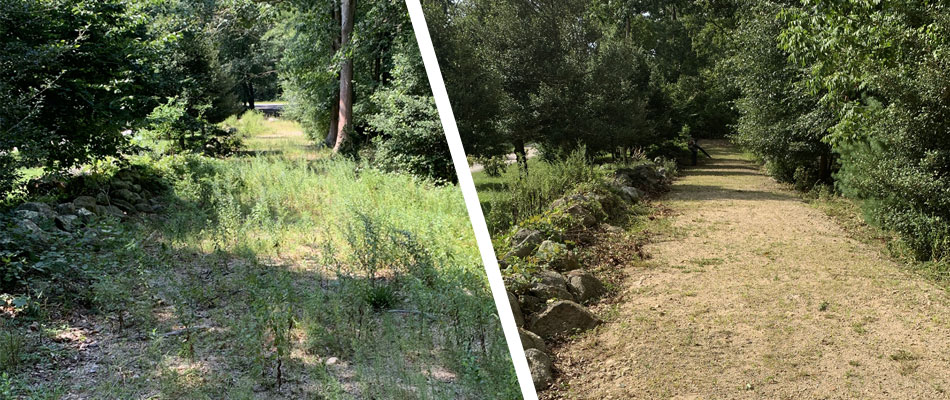 Sometimes, property owners request our one-time cleanup services. After a consultation, we will establish what services your distressed yard needs depending on its condition. A client will most often request a one-time property cleanup if their yard has experienced long-term neglect.
A one-time cleanup can also be beneficial if you want to get your yard into shape before placing your property for sale on the market.
---
Interested in preparing your yard for the next season? Contact our lawn and landscaping company today.
No matter if you want to prepare your yard for the summer or winter, a spring or fall cleanup will help your yard thrive in the next season and beyond. Contact us today by calling (401) 575-1896. We offer spring and fall cleanups as well as one-time visits for distressed properties. Our property cleanups are available to homes and businesses located in Westerly, Hopkinton, Charlestown, and the nearby cities in southern Rhode Island.